Nau mai haere mai ki McLaren Park Henderson South (MPHS) Community Trust
Our purpose is to enable communities to connect and flourish.
Established in 2004, we are a community development organisation that supports, develops and advocates for our diverse multicultural and youthful community to flourish.
We run many projects and programmes, receiving strategic direction from a Board and support from our staff, funders and volunteers. The programmes include education, environmental restoration, youth and women empowerment programmes, community fitness and neighbourhood development to enable our residents and community to thrive.
We are grateful to our community for their support in MPHS lobbying for a purpose built facility, which we have been operating from since 2012.
The platform for our work at MPHS is a determined focus on connection through many different perspectives. We appreciate its importance and for us, it is the most crucial aspect for building individual and community wellbeing and resilience. Our focus on connection is evident through everything we do; in how we support connections between individuals living in our communities, supporting connection and learning through organisations working in our community and enabling a strong connection between our wonderful staff and board members.
Although our sphere of responsibility is embedded in our deep connection with the Henderson South and McLaren Park community, we extend our focus to the wider west Auckland area.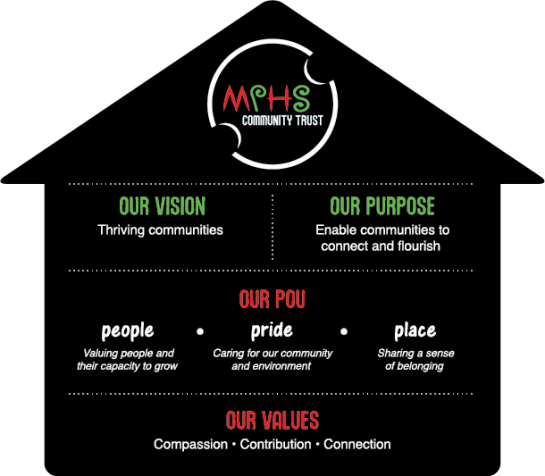 Key statistics for 2020-2021.
Participants at community events
Participants at Governance events
Playgroup participants and 165 Kids Club participants
Activation of spaces and/or street clean up events
Families engaged by HIPPY in Henderson and Ranui
High Tech Youth Studio members signed up
HubWest participants and 1,739 bookings
Tonnes of waste diverted from landfill by Tipping Point
Breakaway Holiday Programme participants and 8 Youth Voice participants
Project Twin
Streams volunteers, 8 events and 985 trees planted
We are a 'not for profit' organisation and gratefully receive support and funding from the following organisations.