IMPACT AT A GLANCE

Moving back to the McLaren Park area where they grew up, and regaining a strong sense of community connectedness after living away for work reasons, made Hulufe and her family feel happier and safer.
Building strong community connections for her and her children motivated Hulufe to become more active in her local community, particularly promoting the new playgroup with her family and friends.
Having family support close at hand has made parenting more enjoyable and manageable.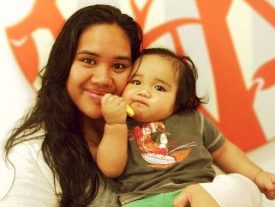 Hulufe is Niuean, and she and her husband have been married five years. Both grew up in the McLaen Park area and for them "there is no place like home". When they started a family a few years ago, they moved away to be closer to her husband's work so that they could have more family time. Coming from a large family she felt extremely comfortable caring for children and becoming a mum – however living away from family and friends for two years had a real impact on her experience as a parent.
"Because we lived out south we were quite far away and we had no family there. Out there, we had no sense of community that I knew of. I didn't know what was going on. I tried to look for a playgroup for myself but there wasn't anything available. I found myself feeling quite lonely as a mum and I felt sorry for my kids that they had nothing to do except stay home and be with me. That was driving me crazy having no family or friends."
After a while the benefits of living close to her husband's work were outweighed by their sense of isolation. Hulufe felt increasingly unsafe and disconnected in an unfamiliar community and with a third child due soon they made the decision to move back to McLaren Park and Henderson South.
Coming home was a great experience for the whole family. Their strong sense of connection with family and friends expanded into the community – a sense of familiarity with places, people and the community vibe. Fred could go to work knowing his wife and children were happy and Hulufe felt motivated to get involved with the new MPHS playgroup based at the new community hub;
"Moving back here was such a blessing and seeing the flyer at the dairy I just jumped at it. I virtually ripped it off the wall. I was so happy that we had come back home to this area that both my husband and I had grown up in since we were young and being able to see that there was something starting up that was just perfect for what I was looking for myself and my kids. The timing couldn't have been better as we really needed something to get out there for myself. We didn't even know that this building existed until then. We were so excited to see this is the building that we come to."
Hulufe was determined to make the new playgroup a success so it could become a meaningful part of their everyday routine. So before even ringing MPHS to register she told everyone she knew with little kids – her sister, cousins, friends, neighbours and even parents she just meet at the dairy to encourage them to join the group together.